Password theft is one of the greatest privacy dangers that an Internet user faces online. With the following downloads, you'll be able to keep your passwords private and yet still keep track of them.
KeePass Password Safe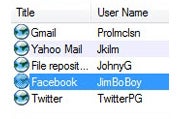 KeePass Password Safe offers a simple way to keep track of all your passwords while keeping them safe. It lets you store all of your passwords in a lightweight, simple-to-use database, and it encrypts the database so that only you have access to it. You can lock it with a master password or with a file key.


The program stores all of your passwords in groups, so you can quickly find the one you want. And the program lets you easily drag and drop your passwords, copy them to the clipboard, and paste them into a Web page or an application using a hot-key. You can also search for passwords, and print and export them in various formats, including CSV, HTML, TXT, and XML files. You can import them, too.

The application can generate hard-to-crack passwords for you, as well--a nice extra for people who want to make their passwords extra secure.

Download KeePass Password Safe

KeyScrambler Personal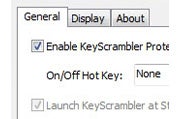 KeyScrambler Personal is a free plug-in for your Web browser that protects everything you type from keyloggers. It defeats keyloggers by encrypting your keystrokes at the keyboard driver level, deep within the operating system. When the encrypted keystrokes reach your browser, KeyScrambler then decrypts them so you see exactly the keys you've typed.

Keyloggers can only record the encrypted keys, which are completely indecipherable. Unlike anti-virus and anti-spyware programs that depend on recognition to remove keyloggers that they know about, KeyScrambler will protect you from both known and unknown keyloggers.

What's more, KeyScrambler provides protection without getting in your way. You don't have anything to learn about the program and you don't have to do anything differently, but with KeyScrambler your important personal information will be a whole lot safer.


Download KeyScrambler Personal

VirtualKeyboard
If you using internet on public place such cafe you have to use this software.

Virtual Keyboard is a free software that is intended for set of the text by means of computer mouse. It will help you to prevent with keylogger application. Keylogger will record all of your computer keyboard activity including your username and password. Someone can steal your username and password so be careful.

Use this virtual keyboard to have a secure internet activity.



Download VirtualKeyboard
Reference: PCworld.com

Bookmark/Search this post with: